The season of spring just seems to be all about falling in love - in love with your special someone, new foods, and new trends. I mean, think about it, the trees are budding, and the birds are chirping, what about it doesn't call for a new something?
1. Tribal Prints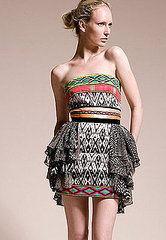 Theres something about the summery fun in these prints. It's something that could never be pulled off during the cold weather and mixed with black, it's kind of amazing. The contrast between brights and black sets you into an amazing mood! The tribal prints is definitely inspired by uncivilized tribes throughout other countries and gives you the feeling of a hot summer day.
2. Nude Colors
Nude colors also remind me of summer. I've invested in a nude dress and shorts, and they really elongate and emphasize your shape. It's very 'goddess" inspired and the lighter colors really make me smile.
3. Coral/ Orange Makeup
Again, the color is just so summer! Invest in it, it suits golden/warm skin tones.